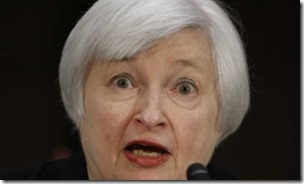 Janet Yellen: I'll Make Sure Audit the Fed Never Happens
Rep. Thomas Massie (R-Ky.) didn't waste any time in introducing a bill to Audit the Fed. Yesterday, the first day of the 114th Congress, Massie introduced H.R. 24, the Federal Reserve Transparency Act of 2015 with 64 bipartisan original cosponsors. The legislation is identical to the Audit the Fed bill that overwhelmingly passed the House of Representatives last year (333-92)—but ultimately Harry Reid refused to bring it to the Senate floor.
Rep. Massive said:
The American public deserves more insight into the practices of the Federal Reserve. Behind closed doors, the Fed crafts monetary policy that will continue to devalue our currency, slow economic growth, and make life harder for the poor and middle class.
With Republicans in control of the Senate, there is a much greater likelihood of the Senate taking up the issue. Senator Rand Paul (R-Ky.) is expected to introduce companion legislation just like he did last session. This time around, Senate leadership says that it will receive a vote.
Read More: http://www.freedomworks.org